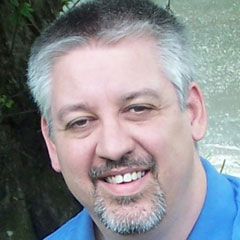 Steve Sensenig
Music Department, Resident Artist
Steve Sensenig has been involved in professional theatre since his 2005 debut as a Music Director with the now-defunct Blowing Rock Stage Company (Blowing Rock, NC) and the show Honky Tonk Angels. A classically trained pianist with a degree in classical piano performance, Steve had developed skills in a wide variety of genres through public performance opportunities, studio session work, and pursuing his own personal musical tastes. So coming into musical theatre was a natural transition where Steve found opportunities to use his skills in country, jazz, gospel, pop/rock, and classical music.
During his first few years in musical theatre, Steve not only found success as a music director, but also began to do some orchestration, keyboard programming, and also wrote his first incidental music compositions for a stage performance of The Glass Menagerie. After serving several years as Blowing Rock Stage Company's Music Director, Steve moved to Abingdon, VA in 2008 to be part of the team at Barter Theatre, the State Theatre of Virginia and one of the longest-running repertory theatres in the country. Steve spent five years at Barter Theatre, where he gained a strong reputation for working with ensemble voices; bringing fresh ideas, life, and energy to each show; and being a strong collaborative partner in the musical theatre process, earning the respect of his fellow collaborators and cast and crew alike. Several of the cast members that Steve music directed and coached have gone on to successful roles on Broadway and national tours.
While at Barter Theatre, Steve music directed the first of several collaborations between Barter and Symphony of the Mountains (Kingsport, TN) where he re-orchestrated Cabaret (1992 revival) for a 23-piece orchestra to mimic the orchestration style of Cabaret (1987 revival). The performances in 2011 with SOTM were met with critical acclaim and launched a relationship between Steve and SOTM that continues to this day. As a result, in 2016, Steve was asked to return to the Barter/SOTM partnership to music direct and conduct from the piano a special performance of Chicago and in 2017, Steve experienced a childhood dream-come-true as he performed George Gershwin's Rhapsody in Blue with the Symphony.
During both tenures as Music Director, Steve also worked as an accompanist at Appalachian State University (Boone, NC) and Emory & Henry College (Emory, VA). His work with individual students as an accompanist/coach placed him in high demand at both institutions. At Appalachian State, Steve also music directed Kurt Weill's Street Scene for the Opera Workshop program.
Since leaving Barter at the end of 2012, where he had been involved with approximately 40 different shows over 5 years, Steve has been a freelance performer and music director, often joining productions at various universities and theatres as a keyboardist, and has also been commissioned to write arrangements and orchestrations for various artists and orchestras including an entire concert, An Irish Heart, with former Celtic Woman Chloë Agnew and the Atlanta Pops Orchestra which has enjoyed several tours on the east coast.
In 2017, Steve was asked to orchestrate a brand-new full length musical produced by Southeast Missouri State University (Cape Girardeau, MO). That musical, An American Hero, had its world premiere at the end of September, 2017. Steve also spent 18 months and over 85 performances touring as the pianist and background vocalist for Classic Nashville Roadshow celebrating the Golden Age of country music.
Currently, Steve and his family travel the US in a motorhome. Steve is thrilled to be joining BTP for the first time!