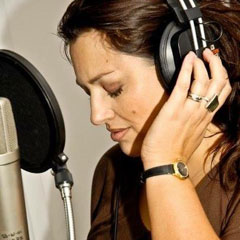 Elena Correia
Vocal Department, Resident Artist
Elena Correia received her Master of Music from The Juilliard School and her Bachelor of Music from San Diego State University. She has performed with the Palm Beach Opera, Corpus Christi Symphony, Aspen Opera Theater Center, Juilliard Opera Theater, San Diego State Opera Theater, Sarasota Opera, San Diego Chamber Orchestra and Cobb Symphony Orchestra.
Ms. Correia has been a member of the master classes of Gerard Souzay, Evelyn Lear, Janet Bookspan, Muriel Costa-Greenspon and Hakan Hagegard and Jack Harrold. She was asked to perform at Mr. Harrold's Memorial Concert at Merkin Hall alongside Ms. Elizabeth Futral. Among her numerous awards are First Place Winner of Classical Productions Award in Weill Recital Hall, Carnegie Hall, First prizes in the prestigious Graz (Austria) Meistersinger Competition, the NATS Competition and the San Diego District of the Metropolitan Opera Competition.
Highlights of her operatic roles include Rosalinda in Die Fledermaus, Cio-Cio San in Madame Butterfly, Violetta in La Traviata, Suor Osmina in Suor Angelica, the Second Lady in The Magic Flute and Stella in The Tales of Hoffmann. While performing the role of the Foreign Woman in the Consul, with IVAI in Israel, Ms. Correia was asked to learn and cover the role of Lucia in The Rape of Lucretia with six days notice, and performed the role in dress rehearsals to much acclaim by Maestro Martin Isepp.
In 2001, she made her debut at Palm Beach Opera as Countess Ceprano in Rigoletto. Her recent performances include several recitals in Barcelona, Spain, Soloist with the Coral Springs Symphony, Hallandale Symphony and Soprano soloist, for the The Messiah at Coral Ridge Presbyterian Church.
Ms. Correia is now scheduled to give orchestral concerts, and recitals throughout South Florida in the coming year, as well as a special concert for her band JET, at Pine Crest Concert Hall this Fall 2011, in celebration of the group's second CD release. Currently Ms. Correia and her band J.E.T is working on their debut album with producer David Ruttenberg.
Ms. Correia who sang three solo pieces on the Beyond the Tribes album with the Klezmer Company Orchestra, has won an Independent Grammy in 2009 for Best Klezmer Album. Recent performances with The Klezmer Company Orchestra, include Eissey Theater, Parker Playhouse, & Boca Amphitheatre with standing ovations at all concerts. As a result of being a winner in the Classical Productions competition, Ms. Correia was awarded her own solo recital in Weill Recital Hall, Carnegie Hall, set for October 2018.