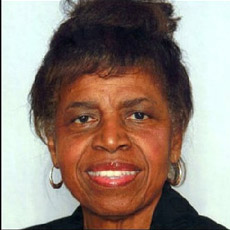 Annetta Monroe
Vocal Department, Resident Artist
Presently Annetta Monroe has a private vocal studio in Tampa, Florida and she conducts vocal Master Classes when her schedule allows.
In 2009, Annetta was awarded the honor of Professor Emeritus from the University of South Florida School of Music, with Voice as her area of expertise.
Ms. Monroe received her musical training from the Oberlin Conservatory of Music, Oberlin, Ohio; the Mozarteum Academy of Music, Salzburg, Austria; and Columbia University, New York City.
Before joining the USF Music Faculty, Ms. Monroe performed as a concert artist throughout the United States and Canada. She performed as a soprano soloist with the Norman Luboff Choir, as a solo recitalist, and as a featured soloist in Elijah with the Oratorio Society of New York at Carnegie Hall. She also recorded background music for Disney, Universal, Warner Brothers, 20th Century Fox, and MGM Studios in Los Angeles, California.
After joining the USF Music Faculty, she performed frequently in solo recitals at the University, as a Guest Artist with the USF Orchestra and Chorus. For more than seven years, Ms Monroe was one of the featured soloist in the annual Music Department Scholarship Concerts. She performed as soprano soloist with the Florida Orchestra in a performance of Beethoven's Ninth Symphony.
Ms. Monroe served two terms as Governor of the National Association of Teachers of Singing (NATS) for the State of Florida. She served many years as President of the Tampa Bay Chapter of NATS. Many of her students have been District and Regional winners of NATS. For four summers she was a member of the voice faculty of the International Institute of Vocal Arts, an institute for young professional vocal artists who wish to better perfect their operatic skills. IIVA has been held in both the United States and Italy. Since 1999 she has been on the voice faculty of the Broadway Theatre Project, which attracts young talented students who are interested in careers in musical theatre. She has former students who are professionals in opera, musical theatre and academia.
She is co-founder of the Spiritual Renaissance Singers of Tampa, Inc.; an organization committed to the revival and performance of the African American spiritual. She is also Director of Music at First Presbyterian Church of Tampa where she directs the choir for the traditional service. Gamma Theta Omega Chapter of Alpha Kappa Alpha Sorority and Tampa Chapter of National Epicureans, Inc. are organizations in which she holds membership.